What comes up for you when you hear the word structure?  Does it give you a warm fuzzy feeling?  Maybe you bristle and want to run the other way?  Is the first word that comes to mind freedom?    Probably not.
When I say the word structure to my clients, they almost always get a bit uncomfortable, look around the room and say 'umm, that feels so boxed in'.
The word doesn't feel so open and expansive…in fact, it can feel quite restricting.
Many of us started our businesses so that we could have the freedom to control our schedule (as well as our income) and not be confined by all the structure, rules, & confines found in the corporate world.
Yet, let's be honest here, lack of structure more often than not leads to lack of success in our business.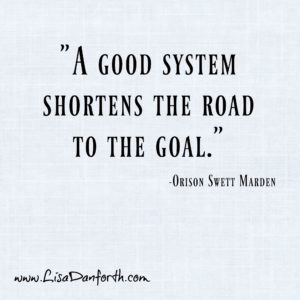 Most business owners can easily get caught up in the day to day chaos of survival that they actually forget to look at how they're building their business, what it is they need to do each day/week to move their business forward and reach their goals
When we go about our day without a plan, without a strategy, without some structure, we really do leave success to chance.  And, I don't know about you but, left to my own devices isn't always so, shall we say, 'productive'.
Knowing what each day holds means if needed you can move your work around so by the end of the week you know whether you've moved closer to your goals, or further away from them.
In today's video blog you'll learn some tips and tools you can start implementing today to set yourself up for success…and a sense of freedom.
As you set up structure around your work day, knowing what you need to do each day, each week, each month so that you can move your business forward with confidence and intention, you'll start to ENJOY THE FREEDOM STRUCTURE BRINGS.
As an entrepreneur for 26+ years I can honestly say the times where I've 'fallen down' in my businesses…when overwhelm consumed me, chaos kicked in, and procrastination owned me (more about procrastination here) was when I didn't have the structures in place, with a plan, to support me in achieving my goals.
Could you use some support (and accountability…) with setting your goals and establishing some structure so that you know what it is you need to do each day to move your business forward and create the thriving successful business you want?   Give me a shout and let's look at creating some freedom to your day.  Click Here to et up your Complimentary Clarity Call.